Dematic Captures Top Awards for Innovative Interactive Experience
Securing top place in highly competitive awards, the Hamilton-built interactive, immersive experience directly virtualized international facilities through insightful and engaging content for Dematic. The high-performing digital platform featured live support and virtual tours in eight different languages, generating critical sales leads.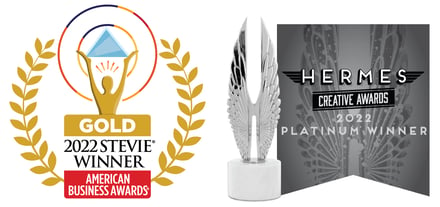 Dematic's innovative and immersive Virtual Tech Tours struck national gold this spring with the multinational technology company pulling down the top Gold Stevie® Award Winner in the 2022 American Business Awards® (Web Achievement – Manufacturing Industry) and the 2022 top Platinum Hermes Creative Award (Strategic Marketing Campaigns: Interactive Brand Experience).
These major awards were complemented with the facts that Dematic previously won a German Stevie Award in the Best Event Marketing Experience category, as well as the German Brand Award in the Excellence in Brand Strategy and Creation – Brand Communication – User Experience category.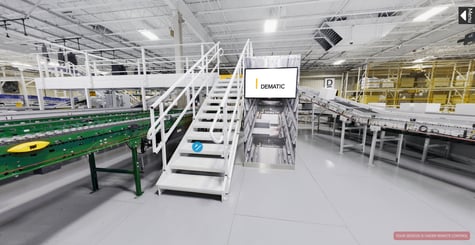 Virtualizing two major international facilities, the multi-award winning Dematic platform digitally stitches together 46 panoramic 360-degree photos with 36 product and content videos for a high-impact, first-of-its-kind interactive online experience, all coupled with live digital tours (in multiple languages) by members of the Dematic international sales and marketing teams.
Features for the Virtual Tech Tours included an interactive floor map to help navigate through the platform, navigation icons to move through the space, and content icons that feature a bank of customer case studies and dozens of product and content videos that further bring Dematic's solutions to life.
Why did Dematic go to such lengths to create a large-scale high order of magnitude experience? The COVID-19 pandemic had shut down the company's popular in-person Technology Showcase Center, where upwards of 75% of customers visited before making a purchase decision. The loss of the onsite sampling experience created a strategic gap that needed to be closed.
The challenge? Transform the physical experience of touring the Dematic technology Centers in person to a virtualized attractive and informative customer engagement that could be experienced in the digital world.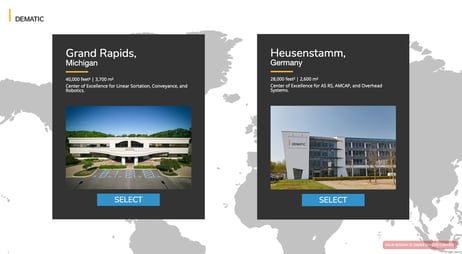 The virtualized platform needed to serve many functions: as a strategic complement for virtual and physical events, a sales tool for existing and potential customers, a marketing tool for media and press, a recruitment and training tool for potential employees and existing workforce, and an education and recruitment tool for students.
Deemed a "highly novel solution to a very real problem" by one of the Stevie judges, the Dematic Virtual Tech Tour creates a deep immersive virtual platform that engages visitors in non-traditional ways. Unlike many online virtual platforms, the Dematic virtual experience is powered by a robust guided tour interface.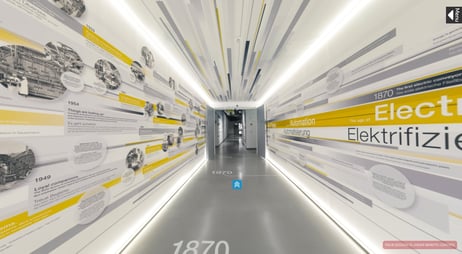 To meet the challenge of capturing its traditional in-depth customer experience, Dematic turned to Hamilton, an Indianapolis-based national event marketing agency. Teaming with K3 Agency in Germany, Hamilton digitally virtualized Dematic's technology centers in Grand Rapids, Michigan and Heusenstamm, Germany through a one-of-a-kind multi-dimensional platform.
As one Stevie judge noted, the Hamilton-built 360-degree video and still image immersive experience fulfilled its goals and captured new opportunities, allowing "Dematic to expand their business and revenue by providing virtual tours to their solutions to other parts of the world without significant cost to client or Dematic."
"Establishing your company as a thought leader in your industry doesn't happen without having the courage to bring first of its kind experiences to the marketplace," said Josh Halpern, Hamilton Account Director on Dematic. "Working with a partner like Dematic who is always willing to invest in new technologies and be brave enough to explore new ways of doing things is something we truly value at Hamilton. This project was something we were already exploring before the onset of the pandemic, but when everything came to a standstill, we were able to accelerate its development and debut it at a time when it was needed most. It's very rewarding to be recognized with such a high honor for the work we've accomplished together."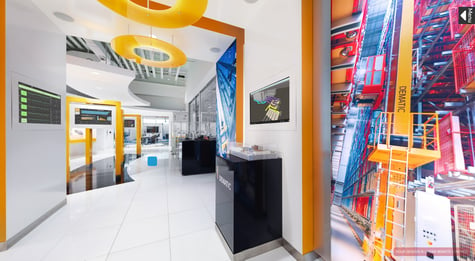 Recognizing that visitors – particularly online participants in Dematic's annual Material Handling and Logistics Conference (MHLC) – can quickly experience "virtual fatigue," the Hamilton-designed digital capacity allowed customers, prospects and interested parties to immerse themselves aided by high-impact guided tours. Through what judges called a "cool interactive experience," visitors were able to interact with online real-time guides all over the world in multiple languages.
To set the stage for a unique and engaging virtual conference at MHLC, Dematic chose the theme "Beyond" to reflect the fact that there's no "return to normal," only a "new normal" that will require the industry to adapt, flex, and disrupt to stay ahead.
The outcome for the online MHLC experience included more than 1,000 visitors from 48 countries, representing eight different languages. Additional details are available here.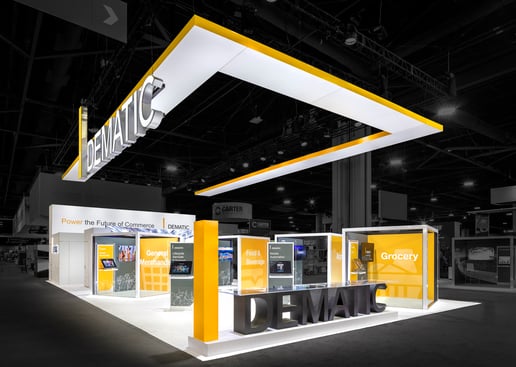 The return on Dematic's investment in the major virtualizations is still growing. For MODEX 2022, Dematic's first major US in-person event, Dematic stood apart from the competition. Instead of a booth packed with products, Dematic showed up with an 100% digital experience built by Hamilton, powered content adapted from the Virtual Tech Tour solution. This successful venture continues to be adapted for other markets.
"The Dematic strategic focus offered us an exciting opportunity to step up and create a multi-dimensional immersive digital experience that could engage Dematic customers and prospects in a highly strategic fashion," said Jason Weddle, Hamilton CEO. "Hamilton is privileged to have a talented team of designers, strategic thinkers, and digital engagement producers who can literally do whatever it takes to build and execute a superb solution – one that was validated by capturing the Stevie and Hermes top awards."
The Hamilton-built Dematic experience scored the Gold-level Stevie Award in the 20th Annual American Business Awards out of more than 3,700 nominations from organizations of all sizes and in virtually every industry that were submitted this year for Stevie consideration.
The Dematic experience attracted stand-out attention from judges for the Hermes Creative Awards, with the Hamilton-built experience securing the top Platinum Hermes Creative Award in the Strategic Marketing Campaigns – Interactive Brand Experience category.
"These major awards represent the collective strategic efforts by Dematic, our partners at K3, and our design, digital engagement, and project management team members at Hamilton," said Josh Frisbie, Hamilton Creative Director. "It is humbling and exhilarating at the same time to win these levels of awards, and we are grateful to the professionals at Dematic for their confidence and willingness to break new digital ground."
---
Creative Credits
Client: Dematic
Strategy/Creative Design/Project Management: Hamilton
Photography/Video/Project Management: K3 Agency
Web Development/Programming: FastEffect
---
About the Stevie® awards and the American Business Awards
The American Business Awards are the U.S.A.'s premier business awards program. All organizations operating in the U.S.A. are eligible to submit nominations – public and private, for-profit and nonprofit, large and small. Nicknamed the Stevies for the Greek word meaning "crowned," the awards will be presented to winners at a gala ceremony at the Marriott Marquis Hotel in New York on Monday, June 13. More than 230 professionals worldwide participated in the judging process to select this year's Stevie Award winners.
Stevie Awards are conferred in eight programs: the Asia-Pacific Stevie Awards, the German Stevie Awards, the Middle East & North Africa Stevie Awards, The American Business Awards
®
, The International Business Awards®, the Stevie Awards for Women in Business, the Stevie Awards for Great Employers, and the Stevie Awards for Sales & Customer Service. Stevie Awards competitions receive more than 12,000 entries each year from organizations in more than 70 nations. Honoring organizations of all types and sizes and the people behind them, the Stevies recognize outstanding performances in the workplace worldwide. Learn more about the Stevie Awards at
http://www.StevieAwards.com
.
About the Hermes Creative Awards
One of the oldest and largest creative competitions in the world, the Hermes Creative Awards honors the messengers and creators of the information revolution. Armed with their imaginations and computers, Hermes winners bring their ideas to life through traditional and digital platforms. Each year, competition judges evaluate the creative industry's best publications, branding collateral, websites, videos, and advertising, marketing, and communication programs. The Hermes Creative Award statuette is a majestic symbol of the ancient Greek messenger who, according to myth, was the Olympian god of literature, orators and poets. The competition is administered by the Association of Marketing and Communication Professionals. For more information, visit
https://hermesawards.com/
About Hamilton
Hamilton is a full-service event marketing agency with a 75-year legacy creating immersive brand experiences for companies throughout North America and around the world. Hamilton designs, produces, and executes integrated experiences – exhibits, proprietary events and conferences, corporate environments, outdoor events, mobile tours, and digital solutions – that drive meaningful connections between brands and their target audiences. For more information, visit
https://hamilton-ex.com/
.
About Dematic
Dematic designs, builds, and supports intelligent automated solutions empowering and sustaining the future of commerce for its customers in manufacturing, warehousing, and distribution. With research and development engineering centers, manufacturing facilities, and service centers located in more than 35 countries, the Dematic global network of over 11,000 employees has helped achieve approximately 8,000 worldwide customer installations for some of the world's leading brands. Headquartered in Atlanta, Dematic is a member of KION Group, one of the world's leading suppliers of industrial trucks and supply chain solutions. For more information, visit
https://www.dematic.com/
.