Engaging Trade Show Games for Virtual, Hybrid, and Live Events
Is your company preparing for an event and looking for a way to stand out? If so, consider integrating an interactive game into your programming. In this article, we will look at why games are popular and discuss some noteworthy game ideas.
Why Trade Show Games are Popular
Games serve a concrete function for brands and audiences alike. Trade show games are favored because they facilitate fun and enhance the event experience. Let's break down the value trade show games bring to virtual, hybrid, and live events.
Increase Brand Visibility
Exhibit games provide an enjoyable and interactive opportunity to promote your brand and services to a large number of people. Ensure that everything is branded when incorporating prizes, giveaways, or other paraphernalia into games to expand the visibility of your business.
Boost Event Traffic
Trade show games spark curiosity, create buzz, and drive event attendees to your exhibit. The more interesting and exciting the game, the higher the event traffic.
Spark Conversation
Starting a conversation at an event can be awkward and intimidating. Games break the ice and construct an approachable setting where interactions occur naturally.
Facilitate Engagement
Trade show games provide fun ways for visitors to observe and experience your offerings. Participants ask questions, receive helpful information, and build meaningful connections while playing a game.
Gather Leads
You can generate leads and drive sales by increasing brand visibility, boosting exhibit traffic, sparking conversations, and encouraging engagement.
Examples of Trade Show Games
Virtual Reality Gaming
Virtual reality (VR) is an exciting technology transforming people's entertainment experiences. Screens are replaced by VR goggles providing participants with adventures closely resembling reality. VR gaming enables infinite possibilities for creating immersive experiences at trade shows. Many people have heard of VR goggles, but few have been able to try a pair on themselves. VR gaming draws a crowd and allows exhibit visitors to gain a unique and memorable event of your products and services.
Social Media Contest
When visitors have an unforgettable experience, they will likely share the event with their friends, family, and followers on social media. While often social media engagement occurs organically, brands should not passively wait for their audiences to take the initiative to post. Brands who understand how to use social media properly reap substantial benefits through online engagement. In exhibits, brands can promote photo opportunities and games that invite attendees to post using your catchy hashtag. Give prizes away to posts with the most retweets, the highest number of likes, the most clever caption, or randomly. As a bonus, social media contests extend the in-person experience to the hybrid and virtual worlds.
Scratch-off Cards
Many people find scratch-off cards irresistible. They activate our sense of curiosity and wonder in an almost childlike manner. Brands use scratch-off cards to create an exhibit activity generating buzz throughout the entire trade show. When a participant scratches their card, the clue revealed needs to be solved to earn a prize. This activity should facilitate conversations and engagement with your products and services, generating valuable leads.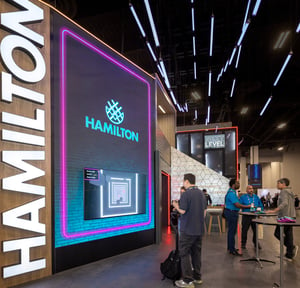 Joystick Game
The most effective and memorable trade show games are the ones that exemplify your brand's message. To "level up" their presence at EXHIBITORLIVE 2022, Hamilton created a digital arcade joystick game where attendees could compete to take it to the next level and make the leaderboard. The top ten attendees on the leaderboard each day received a Hamilton Yeti. Hamilton's design played homage to 80s and 90s nostalgia of arcades while cleverly integrating with today's digital age. The exhibit was packed, the conversations were comfortable and rich, and the audience left Hamilton's exhibit eager for the opportunity to partner with Hamilton in the future.
To take your trade show event to the next level, contact Hamilton today.