Hamilton Receives Pharma Choice Silver Winner for Professional Website
PM360, a leading trade magazine for marketing decision makers in the pharmaceutical, biotech, medical device, and diagnostics industries, has named Zimmer Biomet's ZB 360 Immersive Medical Marketing Environment as the Professional Website Pharma Choice Silver winner.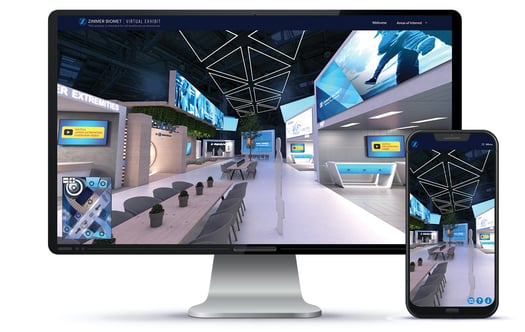 Zimmer Biomet wanted to create a digital environment to support all of their events and also provide another source for surgeons to access their registration site for Medical Education events. This digital experience was to be leveraged pre, during, and post-show as a sales tool.
Leveraging the Hamilton EXTEND® virtual and hybrid event solution, Hamilton partnered with Zimmer Biomet to create a fully immersive 360° panoramic environment that put the HCPs directly in the space to explore more about their solutions. The virtual experience enables self-guided tours for visitors to explore distinctly-themed areas of interest. HCPs can explore embedded videos, 3D product images, marketing collateral, register for Medical Education sessions, and more.
Since 2009, the PM360 Pharma Choice awards has served as the only industry awards to recognize outstanding achievement and creativity in healthcare and life sciences marketing by allowing the industry as a whole to choose the winners. All submissions are placed online where anyone in the industry can vote for their favorites based on content, format, imagination, influence on the industry, impact on the audience, and overall quality. This year, more than 8,000 votes were cast to decide the winners.


"Creativity within the life sciences industry means something different. It means thinking within strict regulated lines. It means engaging with people who would much prefer to behealthy and not have to hear from you. It means everything you do matters, because people's health—and sometimes even their lives—are at stake," said Anna Stashower, CEO/Publisher/Editor-in-Chief, PM360. "It is all of those things that makes the creative achievements within our industry mean so much more—the very best campaigns ultimately help to improve people's lives. This year's Pharma Choice winners, which are voted on by an industry that knows those stakes all too well, represent the campaigns and initiatives from 2021 that excelled at overcoming all those challenges to create something that truly means something to the patients, caregivers, doctors, or other health stakeholders they were trying to reach."
"Our superb team at Hamilton exemplified our corporate focus of positively doing whatever it takes to achieve extraordinary results for our clients and their customers," said Weddle. "We're humbled and proud of what they achieved, and grateful for the professional peer recognition of a job well done."

In total, 39 winners were named in 13 distinct categories: App, Consumer Website, DTC/DTP, Multichannel, Multicultural, Professional Print Campaign, Professional Website, Sales Aid, Self-promotion, Social Media, Unbranded, Variety, and Video. A Gold, Silver, and Bronze award is given to the entries that receive the top three most in each category.

The winning work is featured in the January/February 2022 issue of PM360. And can be viewed online here.
---
CREDITS
Hamilton Team Members
Josh Halpern, Account Director
David Pott, Director – Digital Engagement
Joy Morgan, Producer – Digital Engagement
Tim Litostansky, Manager – Digital Engagement
Joe Cox, 3D Visualization Specialist
LookThink – Web Development + Strategic Partner

---
About PM360
PM360 is the premier, must-read magazine for marketing decision makers in the pharmaceutical, biotech, medical device, and diagnostics industries. PM360 is the only journal that focuses on delivering the full spectrum of practical information necessary for product managers and pharmaceutical marketing professionals to succeed in the complex and highly regulated healthcare environment.

The journal's targeted and insightful editorial focuses on issues that directly impact critical decision making, including: Planning and implementation of cutting-edge strategies, trends, the latest technological advances, branding/marketing, advertising/promotion, patient/professional education, sales, market research, PR, and leadership. Additionally, the "360" in the title signifies the span of this critical, how-to info with personal and career insights for an enjoyable and thought-provoking read.

By providing the full circle of enriching content, PM360 is truly an indispensable tool for busy and productive marketing professionals to stay at the top of their game.