Hamilton Senior Project Manager Honored with EDPA Future Leader Award
Kyle Miguel, Senior Project Manager at Hamilton Exhibits, was a recipient of EDPA's first-ever Future Leader Award at the annual EDPA (Experiential Designers and Producers Association) ACCESS Conference on December 2nd. The EDPA Future Leaders program honors the best and brightest young professionals who are already making a difference with their day-to-day contributions and thought leadership.
Throughout his 13 years at Hamilton, Miguel has garnered robust experience managing accounts, projects, supervision, and operations for clients domestically and internationally. Miguel started at Hamilton in their warehouse as a portable display specialist. Hard work and attention to detail quickly lead to a promotion to program manager. Miguel set himself apart with a steadfast dedication to always exceeding client objectives while maintaining budget requirements. In 2017, Miguel was promoted to senior project manager and has been an integral part of managing Hamilton's most complex and challenging client projects.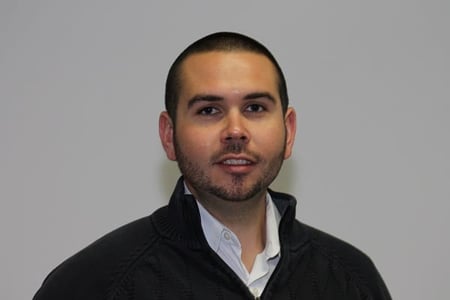 "Kyle's experience throughout various aspects of the business has prepared him for success," says Jason Weddle, CEO of Hamilton. "He is well-liked and respected by clients and colleagues, and his counsel is continually sought and valued. He is deserving of this recognition and we look forward to his continued growth at Hamilton."
Miguel's knowledge and insight into the intricacies of on-site execution stems from his decade of experience traveling to every major convention hall in the US, and many overseas. On the trade show floor, you will never find Miguel on the side lines. He is attentive, calm, and one-step-ahead even under the most stressful circumstances.
But Miguel's favorite part of the industry is said to be the people. He has fostered extensive relationships with industry partners in cities around the world, making him an asset for Hamilton and its clients.
Miguel's curiosity and ingenuity constantly challenges clients and colleagues to embrace new ideas, designs, and opportunities. Miguel is a valued member of the Hamilton team and will continue to rise as a leader in the exhibit and experiential industry.