Hamilton Wins 2023 Gold Hermes Award

Hamilton receives 2023 Gold Hermes Creative Award for their work on Cornerstone Building Brands corporate brand LED walls.
Hermes Creative Awards is one of the world's oldest and most prominent creative competitions. It is an international competition for creative professionals involved in traditional and emerging media concepts, writing, and design. The awards recognize outstanding work in the marketing and communications industry.
This year, Cornerstone Building Brands partnered with Hamilton to create their 2023 International Builder's Brand (IBS) experience. Within their IBS experience this year, Cornerstone Building Brands had three video walls in their exhibit. These videos aimed to convey Cornerstone Building Brands as a family of individual brands and to project enticing imagery to attract attention. Hamilton won a Gold Award in the Electronic Media, Social Media, and Interactive Media and Video category for their project with Cornerstone Building Brands at IBS 2023. Learn more about the experience here.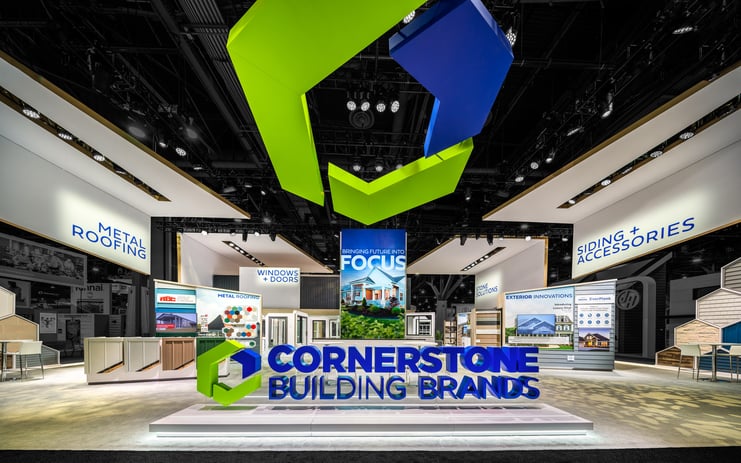 The Association of Marketing and Communications Professionals administers Hermes Creative Awards. Judges are industry professionals who look for companies and individuals whose talent exceeds a high standard of excellence and whose work serves as a benchmark for the industry. There were over 6,500 entries throughout the United States and the world in the 2023 Hermes Creative Awards. Discover more about the awards here.
---
About Hamilton
Hamilton is a full-service event marketing agency with a 75-year legacy creating immersive brand experiences for companies throughout North America and around the world. We design, produce, and execute integrated experiences – exhibits, proprietary events and conferences, corporate environments, outdoor events, mobile tours, and digital solutions – that drive meaningful connections between your brand and your audience. Contact Hamilton today.