Hamilton Wins Best of Show Award at EXHIBITORLIVE 2023
Hamilton is proud to announce that they won the 2023 Best of Show – Large Booth award at EXHIBITORLIVE 2023, an industry-leading conference and exhibition for trade show and corporate event marketing.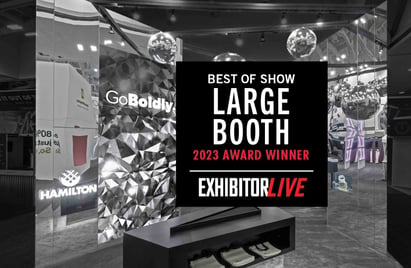 EXHIBITOR Group presented Hamilton with the Best of Show award at this year's EXHIBITORLIVE in Louisville, KY. Experienced corporate trade show marketers spent two days judging the exhibit hall before selecting the winners. According to the Awards MC and EXHIBITOR Group Senior Writer, "Judges weren't wowed by Hamilton. They were stunned." One judge commented, "It's the one booth that's completely impossible to ignore."
Hamilton's exhibit this year featured a campaign to "Go Boldly". Hamilton's "Go Boldly" campaign challenged themselves and attendees to defy convention and raise expectations. The experience was a luxury retail-inspired space that elicited curiosity, encouraged confidence, and elevated emotions while telling Hamilton's unique story in unpredicted ways. The "Go Boldly" environment's tone was set with a local electric string trio, Electria, signature scent, "Juniper Tonic," create-your-own-bag activity, and alcohol-free cocktails. Read more about the experience and watch the video here.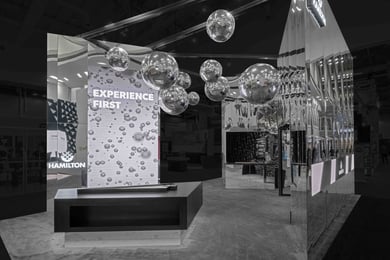 "Hamilton is absolutely thrilled to have won the Best of Show – Large Booth Award from Exhibitor Group at EXHIBITORLIVE. Major shout-out to our entire team for the amazing campaign development, booth design, booth experience, and execution in-house and on the show floor! Kudos to the other nominees and their staff and those companies who exhibited this year; it is an honor and pleasure to win amongst this group. We want to thank everyone who voted for us, and we look forward to next year!" said Jason Weddle, Hamilton CEO.
Hamilton is also honored to have been featured on EXHIBITOR Magazine's 2023 Find It – Top 40 List. EXHIBITOR Magazine's Find It – Top 40 honors the industry's top exhibit producers.
Find It – Top 40 is produced by EXHIBITOR Magazine and Find It – Marketplace, the buyer's guide to trade show products and services. The Top 40 recognizes the best in the industry based on criteria within the following areas: Company and Capabilities, Honors and Awards, Thought Leadership and Industry Participation, Service and Reliability, and Creativity and Key Differentiators.
---
About Hamilton
Hamilton is a full-service event marketing agency with a 75-year legacy creating immersive brand experiences for companies throughout North America and around the world. We design, produce, and execute integrated experiences – exhibits, proprietary events and conferences, corporate environments, outdoor events, mobile tours, and digital solutions – that drive meaningful connections between your brand and your audience. Contact Hamilton today.