Hamilton Wins Two MarCom Awards for Digital Media
Hamilton is proud to announce they have won two 2021 MarCom Awards for achievement in Digital Media.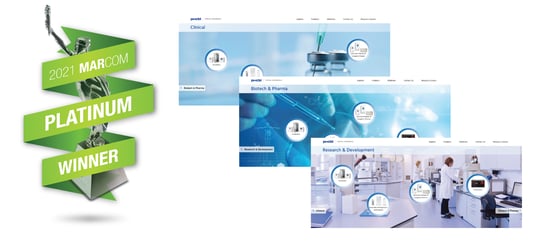 Hamilton won the Platinum MarCom Award for the PHCbi Virtual Experience in the Microsite Information category. This engaging project was an industry-based experience that highlighted real-world product applications.
Learn more about the project
here
.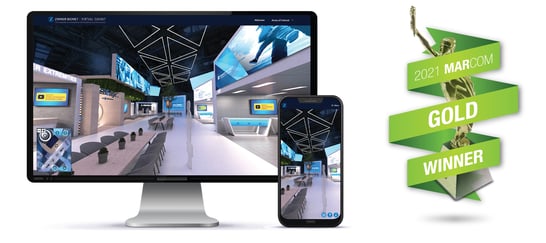 Hamilton won the Gold MarCom Award for the Zimmer Biomet Virtual Tour Experience in the Interactive Web Capabilities Design category. A fully immersive 360° panoramic environment, the virtual experience enabled self-guided tours for visitors to explore distinctly-themed areas of interest.
Learn more about the project here.
Both award-winning experiences were created using the Hamilton EXTEND® platform. Hamilton EXTEND is a virtual brand experience and event solution that enables event marketers to extend their brand reach and customer engagement strategies beyond the physical space. If you are interested in learning more or scheduling a demo, please email extend@hamilton-ex.com.
---
About the MarCom Awards
MarCom Awards is an international creative competition that recognizes outstanding achievement by marketing and communication professionals. Entries come from corporate marketing and communication departments, advertising agencies, public relations firms, design shops, production companies, and freelancers.

MarCom Awards is administered and judged by the Association of Marketing and Communication Professionals. The Association oversees awards and recognition programs, provides judges, and sets standards for excellence. Judges are industry professionals who look for companies and individuals whose talents exceed a high standard of excellence and whose work serves as a benchmark for the industry. There were over 6,000 entries from 41 countries in the MarCom Awards 2021 competition.

MarCom's Platinum Award is presented to those entries judged to be among the most outstanding entries in the competition. Platinum Winners are recognized for their excellence in terms of quality, creativity, and resourcefulness. The Gold Award is presented to those entries judged to exceed the high standards of the industry norm.
Learn more about the awards here.