Social Media For Events: Your Guide To Engaging Attendees Online
Do you have a big event coming up this year? If so, you're going to want a strong social media strategy in order to drive interest and boost attendance.
Social media is a fantastic way to connect with attendees before, during, and after your event. In this guide, we'll walk you through each of these stages, and give you the best tips for perfecting your social media strategy.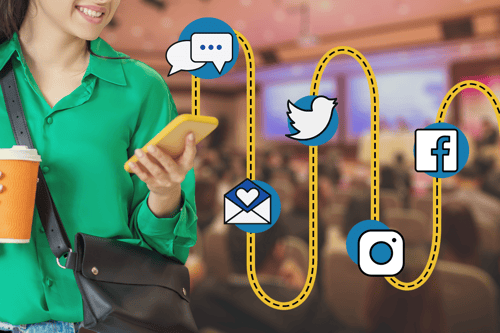 Before The Event: Increase Anticipation
No one can attend your event if they don't know it's happening. Spread the word far and wide and increase anticipation with social media, here's how:
1. Audit Your Social Media Pages
When you're getting ready to promote an event on social media, you want to make sure your pages are up to date and branded correctly.
First, make sure your bios are updated with a link to your website and your correct contact information. Next, remove any posts that don't fit into your brand. Make your social media pages a pleasant place to be by sticking to a consistent color scheme throughout.
2. Host A Giveaway
Giveaways are a great way to draw new people to your account. A few weeks before the event, host a giveaway on Instagram or Facebook. For the giveaway, offer complimentary event tickets or swag in exchange for people tagging their friends or resharing the post.
Giveaways draw new people in who may never have heard of your company or event. These social media visitors could then turn into loyal attendees and customers.
3. Use A Countdown On Instagram
Increase anticipation and remind people of your event with a countdown sticker on your Instagram stories. Countdown stickers allow users to opt-in to receive a notification when the countdown runs out.
You can use countdown stickers for the event itself, and for things like early-bird ticket pricing or new products going up for sale.
During The Event: Capture the Moment
The big day is here! Your pre-event social media strategy has drummed up interest and attendees are here. Follow these tips for best social media practices during your event:
1. Conduct Mini Interviews
Capture the thoughts of attendees and event speakers using mini-interviews. Prepare a couple of fun questions and record the answers.
Mini interviews help attendees feel like they're part of the action and they also give people at home a glimpse into the event. Tag interviewees in the video so they're more likely to share. These interviews can be shared on Instagram stories, your Facebook feed, or on Twitter.
2. Use Your Event Hashtag
Hashtags are a valuable way to connect with attendees and keep content organized. You should be using your event hashtag every time you post a piece of content, and encouraging your attendees to as well.
Make your hashtag short, catchy, and easy to remember.
3. Show Off Your Exhibit
Your social media strategy during the event should be tailored to getting people excited to visit your booth or exhibit.
Show off the fun activities you have at your exhibit with photos, videos, and livestreams. If you're in a crowded event hall, post a social post early in the day with directions about how to find your exhibit. If you're offering any free merch, post pictures of it to entice people to your space.
At Hamilton, we can help you build more interesting and immersive exhibits, find out more here.
After The Event: Stay In Touch
Your social media strategy shouldn't end once the final attendee walks out the door. Instead, now is the time to solidify the connections you made.
1. Repost and Interact With Posts Under Your Hashtag
Now is the time to put your hashtag to the test by searching for it and interacting with people who posted and used it. Like and comment on posts where people used your hashtag and talked about the event. Choose the best content to reshare to your own page.
2. Use Instagram Stories to Conduct A Survey
It's important to ask questions after your event to see how attendees felt about their experience and your company. Instagram stories let you conduct easy surveys that people can complete with just a few clicks.
You can also post an open-ended question sticker on your stories to ask attendees for more thorough feedback.
3. Post Recaps And Highlights
Keep the buzz of the event alive by posting highlights and takeaways. A recap video is the perfect piece of content to share after an event. This will let attendees relive their experience, and also draw in people who were interested but couldn't attend.
If the event was educational or had interesting speakers, create infographics of what you learned and share them with your social media audiences.
Put These Social Media For Events Tips To The Test
We hope you'll use these social media tips to build your strategy and make your 2022 events the most successful ones yet.
We're passionate about event marketing and helping brands take their events to the next level. Contact us today for help planning your events whether they're online, in-person, or somewhere in between.