The Future of Exhibiting: Connecting with Attendees in a Post-Pandemic World
Beginning in early 2021, live events were returning to schedules around the country as businesses began to reopen and employees sought chances to connect with peers and companies. But with those reopenings came uncertainty — business leaders had to figure out a new approach to events under new regulations and circumstances brought on by COVID-19.
Questions about attendance, interaction, engagement, and safety are now part of any conversation surrounding in-person exhibitions. And the financial implications of the pandemic continue to change the event marketing landscape as brands navigate lower-than-normal budgets for their exhibits.
When it was time to return to live events, Johnson Controls knew they had to reimagine their experiences to connect with attendees and create new touch points within the confines of a post-pandemic world. In the past, the company's two security divisions — Security Products and Building Solutions, North America — shared a 100x60 booth space at the GSX event. Despite being in the same space, each division carved out their own area with activations targeting their specific customers and prospects through engaging exhibits. But this strategy had to change when the event returned in 2021.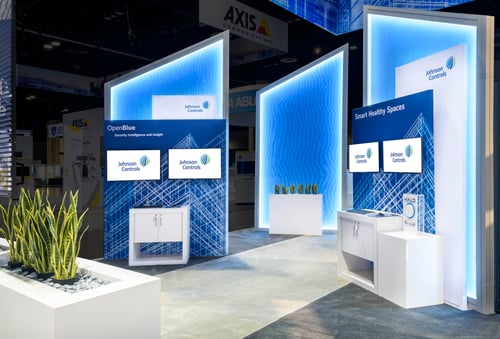 Adapting to the new event marketing landscape was a must for both groups. Safety protocols and shifting customer expectations guided the brand's strategy as they brought their new experiences to life. Regardless of the limitations brought on by COVID-19, both divisions proved customer connection is still possible with successful exhibits that drove revenue for the company.
Security Products
The Security Product division completely revamped their experience from the bottom up, opting to not secure any booth space on the show floor. Instead, they reserved five meeting rooms near the show floor.
Four of the rooms were reserved for private meetings with customers and prospects booking meeting times in advance. In these rooms, clients had the chance to connect one-on-one with representatives from the brand who could answer questions and give more details about the company.
After the privately scheduled meetings, customers were brought to the fifth room where exhibits were designed to showcase the brand's products and demonstrate their solutions. Casual seating and hospitality were integrated into the room so customers could have informal conversations with product teams and experience the latest products and solutions for themselves.
The new room exhibits proved to be a huge success for the Security Products team. Customers were staying in the rooms longer than they stayed in the exhibit when it was on the show floor, and they had more interactions with brand representatives. Moreover, the Security Product team noted that the quality of conversations and product interest following the attendee's visit exceeded performance from prior event appearances.
Building Solutions, North America
While the Building Solutions, North America division decided to remain on the show floor, they did reduce their booth size from a 50x60 space to one that was 20x50. More importantly, they shifted their focus to highlighting the integrated solutions they offered in individual vertical markets. With fewer product demos, their new exhibit put the spotlight on the brand's innovation, advanced digital solutions capability, and industry leadership.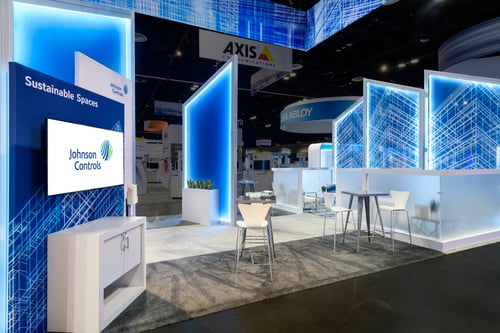 The division's new exhibition space featured a strong emphasis on engagement with current and future customers. The booth incorporated both private and semi-private meeting spaces where representatives could have personal conversations with attendees and answer specific questions about their products. The new setup also included high-tech innovations like a large LED digital curtain display that highlighted the key Johnson Controls vertical markets. This curtain was an eye catcher and served its purpose attracting more visitors to the booth along with the halo-lit solution stations.
While attendance at the 2021 event may have been lower, the overall brand impact and quality of attendees was markedly higher than in the past. The new exhibit environment created an atmosphere centered on engagement, allowing representatives a chance to strengthen existing customer relationships and build new ones.
Rethinking your brand experience
Even with smaller event marketing budgets and continued uncertainty around in-person events, we helped Johnson Controls design and build unique, new exhibit solutions that allowed them to engage with attendees in fresh and exciting ways.
Are you ready to reimagine your brand experience for your next live event? Learn how Hamilton can help you exhibit in the post-pandemic world with innovative new technologies like HUB LIVETM.