The Three E's of Exceptional Experiences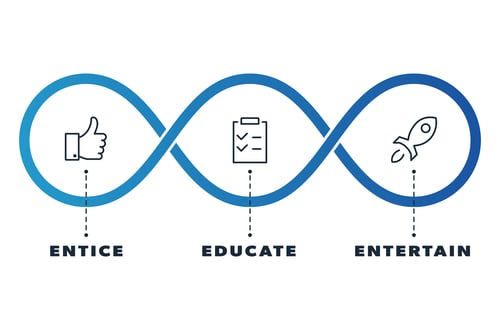 Events are more than just keynotes, panels, and crowded exhibition halls.
The value of live events lies in the experience — attendees get a chance to get away from their desks to interact and connect with brands and one another.
Brand experiences at trade shows and conferences can be hit or miss. How many times have you found yourself shuffling through a stack of brochures and trying to remember who offered you what after walking through a gauntlet of exhibitors?
Instead of being just another brochure in the pile, create a memorable experience for event attendees. Build excitement around your brand and boost the business impact of your event marketing efforts. To get the maximum return on your trade show dollar, you need to think of your event marketing in terms of experiential marketing to help your brand stand out from the crowd.
Here, we're breaking down the three E's of exceptional experiences — entice, educate, and entertain — so you can curate better brand touchpoints and see real results from your event marketing.
ENTICE
Getting attendees to step into your experience is half of the battle. Pre-show marketing is just as important, if not more important, than the event itself — your brand experience will only be successful if people show up.
While some events make it easier than others to get prospects into your booth, you should consider how you are going to drive attendees to your experience and what value you provide that will entice them to visit. Maximizing your opportunities relies on a mix of great booth design, interactive engagement, a strong marketing strategy, and novelty.
Building momentum prior to an event is one of the most surefire ways to ensure your experience is a success. You will most likely have access to a registered attendee list, but the event organizer typically has pretty stringent rules about what you can do with that list and you don't want to run off potential customers by spamming their inbox with pre-event emails.
Instead, approach attendees strategically before the event begins. Some effective and engaging ways to entice attendees to visit your booth include:
Using social media to let people know your brand will be at the event. Start conversations using the event hashtag to engage prospective attendees, or even create a contest that encourages them to show up to your booth.
Giving attendees resources that make their experience at the event better. Share blogs, tips, and other relevant information about the event and the city where it's taking place.
Contacting existing customers and arranging a meeting, loyalty touchpoint, or just inviting them to stop by your exhibit. Attendees usually go to events in groups so your current customers can make valuable connections and referrals if they bring their colleagues to your experience.
EDUCATE
Event attendance is primarily motivated by access to educational content and keeping up with industry trends. In fact, a study conducted by the International Association of Exhibitions and Events found the desire to learn was the top driver of trade show attendance.
A firm understanding of your products, specifications, and the value of your brand can help you stand out as a thought leader on the show floor. Research and data earn sales, not impulse, so an education-based approach to your experience can help differentiate your brand from the sea of sales pitches that often dominate trade show floors.
There's no shortage of creative and engaging ways to integrate education into your experience, including:
Delivering fun and exciting presentations attendees won't forget as soon as they walk away. Avoid sounding overly technical and monotonous by giving short and punchy presentations that are focused on solving attendees' problems.
Gamifying your educational experiences by incorporating quizzes, giveaways, or other mini games that encourage attendees to be active participants in the learning process.
Providing follow-up educational opportunities like a webinar or free white paper that covers information discussed in your experience. Getting their email address in exchange also gives you a chance to nurture the prospect and boost conversions.
ENTERTAIN
The hallmark of live events is the interaction between brands, attendees, and other stakeholders. Unlike emails or video calls, in-person experiences offer brands the chance to wow attendees and garner valuable attention by creating an impactful exhibit design.
When creating your experience, consider how you can take it up a notch by providing a unique experience that your guests won't expect. You should also think about how you can use a hybrid complement to your live experience to entertain a remote audience as well.
Simply put: never settle for the status quo — attendees are more likely to remember an entertaining experience than a dull one.
The world is really your oyster when it comes to bringing excitement to your trade show experience — your main goal is to get people talking, after all. Here are some ideas to get your creative juices flowing:
Design a colorful photo op where guests can snap a picture and post to social media — tagging your brand, of course
Create an immersive brand experience using VR or AR
Hire a live host, comedian, or performer to add humor and entertainment to your booth
Host a scavenger hunt throughout the trade show floor
Offer snacks or beverages to attendees (bonus points if the aroma brings in more traffic!)
Whatever you land on, make sure to make it memorable so attendees think of your brand first when they think back to their time at the event. To get even more tips and tricks for making the most of any upcoming live event experience, download our new guide, "Live Event Playbook: Getting Back in the Game."