5 Best Tips for Going Green at Trade Shows
While trade shows are a great place to showcase your business and win new customers, they can also take a big toll on the environment. With Earth Day taking place in April, it's a good time to focus on sustainability and learn how to reduce your footprint one trade show at a time.
Becoming more sustainable as a brand is not just good for the environment, but also for your wallet. Research shows that 68% of customers seek out brands that reduce environmental impact.
Here are our top tips on how to make your trade show booth more sustainable: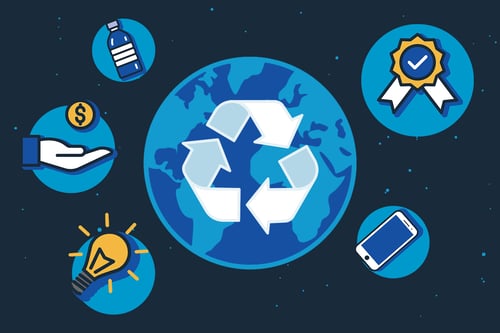 1. Skip the Paper Trail By Going Digital
Trade shows can produce a ton of unneeded paper. From agendas and brochures to worksheets and sign-in sheets, so much paper is used and ultimately tossed in the trash. Combat this habit by going digital.
Take a mobile-first approach and bring people the same information you'd normally print on a flier to the palm of their hand. Our HUB LIVE™ platform offers an easy way to provide attendees with the valuable event information they need on one convenient mobile web app.
Instead of handing attendees a million different pamphlets, HUB LIVE™ lets them scan a QR code and get access to event hours, a lineup of speakers, your brand's content library, and more all in the same place.
2. Invest in High-Quality Materials
When planning to build a trade show booth, it can be tempting to cut costs with the cheapest possible options. Instead, invest in high-quality, durable materials that will last for years.
You'll be saving money and the environment every time you reuse your trade show exhibit since you won't be shipping all new materials. You may have to invest more at the start; but it's the most sustainable choice and will save money in the long run since you won't be constantly replacing flimsy materials.
3. Opt For Sustainable Swag
It's a great idea to offer attendees a small token of appreciation for visiting your booth. But so much of the "swag'' given out at trade shows offers little value and gets thrown out.
To prevent your swag from finding its way to a landfill, offer sustainable and useful options at your next trade show. Great ideas include reusable water bottles branded with your company logo, reusable totes, and notebooks or t-shirts made from recyclable materials.
4. Let There Be (Eco-friendly) Light
Adding light to your trade show exhibit is a great way to feature your products in a new and interesting way. Just make sure you're choosing LED bulbs. LEDs are more efficient and generate less heat than other light sources.
The Energy Star label is a good thing to look out for when shopping for light bulbs. Bulbs with this label have passed the energy-efficient guidelines set by energystar.gov
5. Donate the Leftovers
Rather than trucking your leftover trade show materials all the way home or tossing them in the trash, donate them to the community.
Check with the exhibit hall to find out where you can donate leftover items. Even things you think wouldn't be usable like branded lanyards or posters could be repurposed at a local school or community center.
You can also partner with a company to recycle your leftover items at no cost to you.
We Can Help You Plan A Sustainable Booth
We hope this list gives you ideas on how to make your trade show booth more sustainable for Earth Day and beyond.
At Hamilton, we are trade show experts. We have digital solutions and booth execution ideas that are totally eco-friendly. Reach out to us today to find out how we can help you plan more sustainable events in 2022.