Trade Show Tip: Interactive Exhibits Revamp Customer Experience
To be successful, businesses depend upon effective relationships with customers that generate sales and inspire loyal, repeat purchases. According to a survey conducted in 2021, a majority of businesses perceive customer experience as a primary competitive factor.
Customer experience encompasses all of the sensory, affective, cognitive, and behavioral elements of a consumer's journey, from discovery to purchase. Excellent customer experience is beneficial because it increases customer satisfaction and loyalty, leads to positive reviews, and sparks powerful word-of-mouth marketing.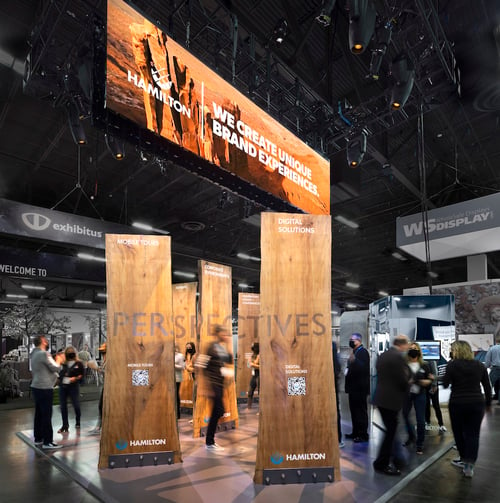 Over the last couple of years, the ways in which we connect have drastically transformed. Companies are changing their customer strategies and taking bold steps for the future. For your next trade show, you can revamp your customer experience with an interactive exhibit.
Why is interaction important in customer experience?
In the field of physics, interaction is defined as the way fields, matter, atomic particles, and subatomic particles affect each other. The interplay consists of a dynamic sequence of actions and reactions, and the relationships can take the form of mechanisms such as gravitation or electromagnetism.
These principles extend to sociology and commerce to define the way customers engage (or do not engage) with products, brands, and companies. Interaction is an important component of customer experiences because it can improve communication, reinforce the brand identity, capture the attention of the audience, entice consumers to take action, and solidify loyalty. Passive customer behaviors are not ideal for business growth. Meaningful, dynamic interactions can supercharge every step in the customer journey, from discovery, to education, consideration, purchase, retention, and advocacy. Your content can be brought to life with intelligent, immersive experiences designed specifically to strengthen the connection between your audience and your brand.
How do interactive exhibits work?
Interactive exhibits involve immersive environments that activate the senses, prompt actions, and create lasting impressions. Strong interactive exhibits consist of visually stunning booths, displays, and materials that surprise and delight visitors in unique and memorable ways.
Hamilton is a full-service event marketing agency that flawlessly orchestrates every aspect of your immersive brand experience from discovery, to design, engineering, fabrication, graphic production, installation, and more. Every aspect is executed in-house by a skilled and creative team.
For Mailchimp, Hamilton designed a visually captivating sign and booth architecture that was visible from 100 feet away. A 3D printed, touch-activated "wonder wall" delighted attendees with colorful, informative illustrations. Demonstration stations enabled visitors to engage directly with Mailchimp's platform. This booth won EXHIBITOR Magazine's Gold Exhibit Design Award for Best Use of Storytelling. To see Hamilton's dynamic booth for Mailchimp, visit this link.
For Elanco, Hamilton designed an interactive exhibit that fulfilled the company's goal to redefine their conference presence, distinguish their products from the competition, and solidify Elanco as the leader in Companion Animal Health. Hamilton established a VIP program to increase audience participation, and designed an exciting booth complete with a feature wall, theater, lounge, and more. To learn more about Hamilton's immersive booth design and programming for Elanco, visit this link.
Interactive experiences are not limited to in-person events. Interactive experiences can be physical and viewed in person, fully digital and viewed online, or hybrid of the two. For Zimmer Biomet, Hamilton designed a fully immersive, 360 degree, panoramic environment with embedded videos, 3D product images, marketing collateral, engagement prompts, and more. The Zimmer Biomet Virtual Tour Experience won the 2021 Gold MarCom Award in the category of Interactive Web Design. To learn more about Hamilton's interactive digital booth for Zimmer Biomet, visit this link.
How can interactive exhibits improve customer experience?
While every interactive exhibit is unique, they are all designed to improve the customer experience by enticing, educating, and entertaining visitors.
Entice
Curiosity is a powerful force. When something catches your eye or activates another sense, it is intriguing and the gravitational pull can be irresistible. Interactive exhibits can improve customer experiences with a marketing strategy that makes a positive first impression, inspires intrigue, and cultivates a buzz. Follow that up with a stunning display and the enticement is successful!
Educate
Trade show attendees are not just looking for exceptional experiences. They need great experiences that are informative and educational. Fun presentations, games, and follow up opportunities can distinguish your brand from the competition.
Entertain
Entertainment is a strong form of communication. Offerings such as photobooths, VR, AR, performances, treats, and more can ensure attendees understand and remember your brand.
To learn more about how to implement these strategies in the digital world, visit this link.
Set up an interactive exhibit at your next trade show
Partner with Hamilton to enhance your brand with an interactive exhibit at your next trade show. For over 75 years, Hamilton has been creating immersive brand experiences for companies across the globe. The full-service event marketing agency designs, produces, and executes integrated exhibits, events, conferences, corporate environments, mobile tours, and digital solutions that drive meaningful connections between brands and audiences. There is no limit to the creativity and skill of the creative team. The Hamilton motto is, "whatever it takes!" To revamp your customers' experiences with interactive exhibits, contact the award-winning firm, Hamilton, today!