5 Ways to Use Guerilla Marketing to Promote Your Exhibit
Guerilla marketing is all about the element of surprise. Great guerilla marketing tactics should be highly creative, but don't need to break the bank.
When it comes to trade shows, guerilla marketing can be used to promote your exhibit and get people excited about your brand. We're bringing you five ideas for how to use guerilla marketing to send crowds flocking to your next trade show exhibit.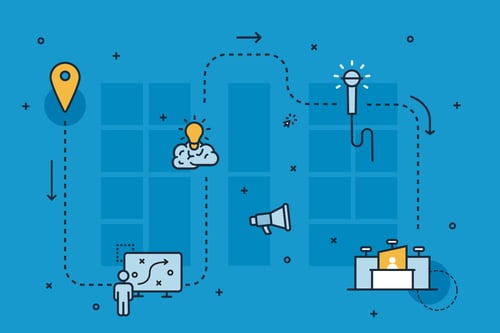 1. Create A Treasure Hunt
Treasure hunts are a fun form of guerilla marketing that many people won't be expecting. Plan a treasure hunt by creating a map of locations within the convention center, such as event sponsorships, educational sessions, and of course, your booth space! Then send people looking for different clues.
You can post your treasure hunt map on social media before the trade show to get people interested and ready to play. Treasure hunts will keep people thinking about your brand the entire time they're playing. At the end of their hunt, reward attendees with a prize and use the opportunity to draw them further into your exhibit. Consider using Hamilton's HUB LIVE platform as a way to automate your treasure hunt with QR codes.
2. Partner With Local Businesses
A great way to be at the top of attendees' minds before the trade show is to reach them at their hotel or restaurant. Partner with local hotels and restaurants and ask if they'll accept coasters, straws, or napkins branded with your logo.
This tactic will have attendees noticing your brand outside of the trade show context so that when the doors do open for the event, they'll be heading to your booth first.
3. Take Attendees Behind the Scenes on Social Media
People love to get an exclusive sneak peek. Play into this by having one of your employees preview the behind-the-scenes of building or setting up your exhibit. Hold an Instagram or Facebook live where you show bits and pieces of what attendees can expect at the event.
You can also host a giveaway during the Livestream to hand out branded swag and get people engaged and excited about your exhibit.
4. Make Your Exhibit A Fun Place To Hang
Many people expect cell phone charging stations at exhibits, but not many expect a fun and welcoming place to hang out. Make your exhibit the place to be by setting up a video/board game station. You can bring these games from home, so it's a low-cost and fun way to give attendees a break from the business aspect of the day.
This will increase word of mouth about your exhibit too, as people will tell their friends they got to play a round of their favorite game at your booth.
5. Advertise on a Pedicab
If your trade show is taking place in a big city, there are likely pedicabs wheeling people where they need to be. These pedicabs are great for advertising your brand ahead of the trade show.
Create a fun and engaging advertisement that shows off your brand personality. This is a fun place to reach attendees where they're not expecting it - biking past them on the streets.
Get Going on Guerilla Marketing
Remember, guerilla marketing is all about surprising and delighting your audience. Feel free to have fun with it and use plenty of creativity.
Even your trade show booth itself can be a form of guerilla marketing. Try using shocking or surprising elements in your exhibit design to draw people in. At Hamilton, we're experts at creative immersive experiences that fit your brand goals. Contact us today to learn how we can help bring your exhibit to life.