Generational Marketing for Events: How to Target Different Age Groups
Every generation is unique, and each grows up with different trends, technology, events, and economic states that affect their buying habits
Generational marketing is the practice of tailoring your marketing efforts to different generations. In this blog, we'll show you how applying generational marketing principles to your event marketing can help you connect with attendees more effectively.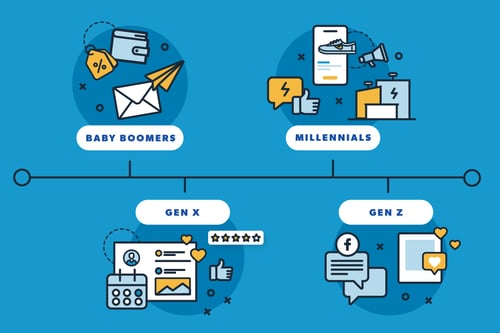 Who are the generations to target?
Four primary generations are leading the market right now:
Baby Boomers (born between 1946 to 1964)

Gen X (born between 1965 to 1980)

Millennials (born between 1981 to 1996)

Gen Z (born between 1997 to 2012)
Each of these generations has its own way of looking at the world and, by extension, your brand's product or service. Knowing how to market to these generational preferences will put you a step ahead of your competition.
Baby boomers
The baby boomer generation grew up in a time of post-war economic prosperity. Today, they have the most disposable income of any generation, yet they're marketed to the least. Only 5-10% of marketing is targeted toward baby boomers.
You can access this untapped market by understanding what drives baby boomers to engage with a brand. Baby boomers are often empty nesters with no significant financial life events looming, so they have extra money to spend. Baby boomers value good deals and loyalty. Engage with them at events by offering discounts for first-time customers or establishing loyalty programs for existing customers.
Email marketing is a fantastic way to connect with baby boomers before and after an event. When crafting email marketing campaigns directed to this generation, utilize large and accessible text and don't add too much messaging that may distract from the focus of the email.
Gen X
Generation X grew up in a recession, so they're generally more frugal and less trusting than the baby boomer generation. Gen X will spend substantial time researching before buying a product.
When marketing toward Gen X, it's important to establish credibility. Use social proof in the form of reviews from other attendees or customers in your marketing. The reviews will show members of Gen X that other people enjoyed your product, service, or event and make them less skeptical about trying it themselves.
Gen X is active on Facebook, so creating Facebook ads is a great way to reach them. Schedule Facebook ads to showcase upcoming events. Creating an "event page" on Facebook is another effective way to invite people to your event and help them keep track of essential event details.
Millennials
Millennials are less loyal than baby boomers or Gen X, with only 29% of MIllennials buying from the same brand. Showcasing your brand values is important to capture and keep Millennials' interests since they are more likely to buy from brands that have values similar to their own.
Adjust your event marketing strategy to highlight the issues that matter most to your brand. For example, if your brand supports sustainability, be sure to include that in your event marketing pieces. Discuss the sustainability efforts you've accomplished recently or how you worked to make that specific event more sustainable. Incorporate your brand's values into taglines, digital flyers, and social media marketing.
75% of Millennials use smartphones to shop online, making it crucial that your website is mobile-friendly. This way, when you send Millennials to your website during or after an event, they'll be able to easily navigate it from the palm of their hand.
Gen Z
Gen Z relies heavily on social media for their buying decisions. They appreciate brands who engage with them on social media by responding to their comments or hosting lives streams to answer questions.
It's very important for Gen Z to have experiences they can share on their social media platforms. Make sure your event has interactive elements ready for social sharing. Try building a photo booth with a pre-chosen hashtag that allows Gen Z to tag the event. Snapchat geofilters are another great strategy to provide Gen Z an opportunity to show off their day.
Gen Z often looks to influencers for their opinions on the best products or services. If possible, team up with an influencer to attend your event and showcase your brand on their social channels.
Hamilton Builds Incredible Brand Experiences
Remember that generational marketing techniques can help you attract more attendees and customers from your target audience.
At Hamilton, we can help you build brand experiences targeted to any generation. Contact us today to get started.