Hamilton named to 2021 Fab 50 List of Industry's Top Fabricators
Hamilton makes Event Marketer's 2021 Fab 50 List of Top Fabricators serving the Event and Trade Show industries.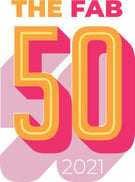 Event Marketer's annual editorial guide showcases the industry's top fabrication partners. In 2020 alone, more than 35,000 clients accessed the Fab 50 guide (Hamilton was featured), cementing the need for a dedicated editorial listing of top fabricators.
The Fab 50 is the world's only editorial ranking of the top 50 exhibit builders and event fabricators serving the U.S. It is widely recognized as a premier listing of best-in-class companies within the trade show and event marketing industries, showcasing and highlighting creativity and ingenuity.
Event Marketer had this to say about the 2021 Fab 50 honorees:
When attendees look at beautiful exhibits or event environments, they may not be aware of all the blood, sweat and tears that took place behind the scenes to bring those installations to life. But EM [Event Marketer] is here to shine a well-deserved spotlight on the event architects that help power some of the world's most impactful experiential builds. In this, our ninth annual editorial listing of the top fabricators serving the event and trade show industries, we salute the award-winning designers, strategists, producers, technologists and other miracle workers that make magic out of raw materials on a daily basis.

Of course, with a global pandemic to contend with, the fabrication community has had to navigate a host of challenges over the last two years. On top of a stalled trade show industry, builders have been battling supply and labor shortages, the rising cost of materials and transportation, drawn-out production timelines and shipping delays. And then there's the all-important business of managing client expectations amid a rapidly evolving industry and ever-changing health and safety regulations.

But again and again, the organizations that comprise this year's Fab 50 proved they were up to the task. They reached beyond their core capabilities to develop new skillsets, expand their virtual and hybrid event services, enhance their tech stacks, develop proprietary event solution, and in some cases, pivot to building pop-up COVID vaccine sites. They scaled exhibits and they scaled exhibits down to keep pace with fluctuating client requests and budgets. And, as always, the fabrication houses on this year's roster went into painstaking detail to ensure their clients' exhibits, environments and installations clearly communicated the brand's messaging.

From erecting socially-distanced outdoor dining environments, corporate briefing centers and virtual trade show booths, to consumer installations, broadcast studios and beyond, these featured fabrication shops have demonstrated why they're not simply vendors, but strategic partners and valued team members.

We see you, builders. And we can't wait to find out what you've got up your sleeves in the year ahead. Congratulations to all of our Fab 50 honorees.
Hamilton was specifically recognized for its innovation and commitment to sustainability:
[Hamilton] – Privately held, family-owned and committed to sustainability. Led an industry-wide PVC recycling program, delivering a win-win for the environment and participating companies, and was instrumental in implementing the Indiana Department of Health's vaccination initiative. On the event front, Hamilton EXTEND® offers virtual and hybrid solutions; the HUB LIVE™ web app facilitates engagement, scheduling and content delivery; Hamilton inSIGHT™ is its proprietary lead capture system. Look for more innovation from former COO Jason Weddle, now CEO and part owner.
"As a reflection of our company, our clients and their customers, and our people, we couldn't be more thrilled to be acknowledged by Event Marketer as a Fab 50 recipient," said Jason Weddle, Hamilton CEO. "It is an honor to receive this distinguished recognition. We are blessed with amazing team members, creative and committed clients, and together we're doing whatever it takes to produce amazing and impactful results for our clients."
To see the complete list of Fab 50 honorees, click here.
In addition to the Fab 50, Hamilton garnered industry prestige by being named to EXHIBITOR Magazine's 2021 Top 40 List, which honors the industry's top exhibit producers. Hamilton has won over ten awards for its creative work and accomplishments in 2021 alone. Check out our blog post for a recap of Hamilton's Year in Review.
---
Hamilton is a full-service event marketing agency with a 74-year legacy creating immersive brand experiences for companies throughout North America and around the world. We design, produce, and execute integrated experiences – exhibits, proprietary events and conferences, corporate environments, outdoor events, mobile tours, and digital solutions – that drive meaningful connections between your brand and your audience.