Hamilton's Year In Review: New Event Strategies and Accomplishments from 2021
2021 marked another year of change, with new opportunities and challenges for the event marketing industry. Some events stayed online, some returned in full force, and others took on a hybrid option.
Hamilton was there through all these changes, and we learned to adapt and evolve along the way. Join us as we travel back through 2021, and share new event strategies and accomplishments we've achieved this year.
January 2021: Hamilton Got A New CEO
In January, we experienced a shift in leadership as Jason Weddle took over as CEO. Weddle has had a 15+ year history with Hamilton, starting his career here in 2005 as a warehouse foreman and working his way up to CEO.
In a recent blog post, Weddle reflected on this year of uncertainty and offered advice on how to move forward as a leader during this time.
"Want to lead through times of uncertainty? Be a risk-taker, not an order-taker. Find and retain and empower the best people. And as CEO, ensure your culture reflects a real, no-holds-barred focus on your people, your clients, and your clients' customers," Weddle said.
Hamilton's former CEO, Dan Cantor, is now Chairman.
February 2021: Hamilton's COVID-19 Digital Response Was Recognized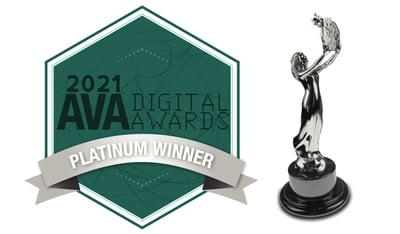 In February, our digital event strategy was recognized when we won a Platinum AVA Digital Award for our work with Zimmer Biomet.
Zimmer Biomet is a longtime client of ours. When their annual in-person exhibit was canceled due to COVID-19, we found a way to bring the exhibit to life virtually. We used our Hamilton EXTEND platform to build an immersive virtual exhibit in just two weeks.
The online exhibit allowed visitors to interact with displays, download marketing materials, watch videos and request information. The online exhibit ended up giving Zimmer Biomet more leads, and higher-quality ones, than their in-person exhibit the year before.
April 2021: Helped Implement Indiana's Vaccine Rollout
Earlier this year, the state of Indiana had to race against time to get people vaccinated. The Indiana Department of Health (IDOH) needed a logistical partner to help distribute more than 200,000 vaccines in 60 days. That's where we stepped in.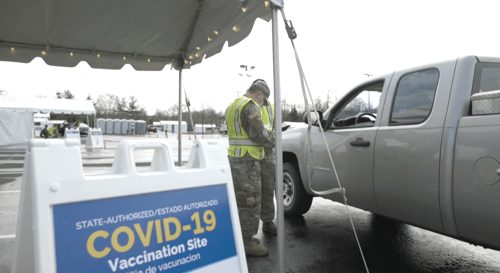 We assisted in building four mass vaccination sites and helped with the logistical planning of 11 mobile sites across the state. For each of these major sites, we handled the installation of tents, rentals, and transportation logistics. We also ensured the sites were adhering to the strict vaccine storage requirements.
"Hamilton has stepped up several times this year in critical ways to help the Indiana Department of Health bring multiple thousands of vaccines and other services to the people of Indiana," said State Health Commissioner Kris Box, MD. "Their valuable expertise works seamlessly with our staff in planning and executing these important operations."
This was one of the most challenging yet rewarding projects that Hamilton worked on this year. It serves as an example of how we adapted and implemented new event strategies for circumstances we couldn't have planned — like a mass vaccine rollout.
April 2021: Honored with an American Business Award
In April, Hamilton won a Gold Stevie® Award in the Web Achievement category for our work with Broan-NuTone.
For Broan-NuTone, we created a virtual experience that judges deemed a "strong campaign with 360-consumer journey integration" and a "very innovative solution."
See more of the work that won us the award here.
April 2021: Made It In EXHIBITOR's Top 40
Also in April, we were ranked in EXHIBITOR magazine's 2021 Top 40 list, which honors the event and trade show industry's top exhibit producers. EXHIBITOR magazine is a publication that features best practices in trade show marketing.
"This program is intended to spotlight the best exhibit producers in the industry, while also providing a valuable resource for exhibit managers searching for new potential partners," said Randy Acker, president and chief operating officer of Exhibitor Media Group.
May 2021: Won a Hermes Creative Award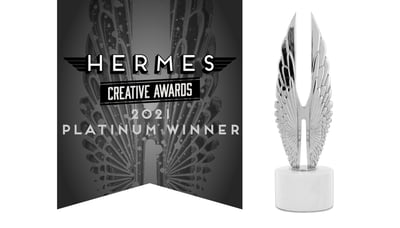 Our website-building savvy was put to the test when we created a self-guided experience for our client, Sensormatic Solutions. Our work on this site won us the 2021 Platinum Hermes Creative Award for best overall B2B website.
For Sensormatic Solutions, we created a self-guided experience for site visitors to explore new products, watch videos, and connect with salespeople. As part of the web design, we also created and produced six new product videos available in three languages in order to reach more customers.
Summer 2021: Helped Brands Capture More Leads with HUB LIVE™
During the summer of 2021, many events and tradeshows were returning in person. However, brands still needed a way to engage with attendees in a safe and COVID-19 conscious way. That's where HUB LIVE™, our touchless web-app experience, came in.
HUB LIVE™ allows brands at events to share information without any printing or app downloads. Event attendees can simply scan a QR code and be brought to a mobile site where they can learn more about the brand, schedule meetings or participate in fun quizzes.
October 2021: Won Two Digital Media Awards
In October, we were honored to win two MarCom Awards for our digital media work. The first was a Gold MarCom Award for our work with Zimmer Biomet's Immersive Experience. The second was a Platinum MarCom award in the Microsite Information category for our work with PHCbi.
November 2021: Learned to Think Outside the Box at EXHIBITORLIVE

2021
In November, we attended EXHIBITORLIVE 2021, where we learned a trick or two about thinking outside the booth. Not all trade show booths need to be a stuffy table with a poster and some free pens. Instead, we tried something new this year in the way we presented our brand.
We traded in the traditional booth for six tall wooden pillars. Each of these pillars showed off an offering Hamilton has such as, outdoor events, mobile tours, and digital solutions. We also used a soundscape to immerse visitors and keep them engaged and surprised.
December 2021: Hamilton Wins Two EDPA Awards and Makes a Coveted Top 50 List
One of our senior designers, Aric Furfaro, won a prestigious "Future Leader" award from the Experiential Designers and Producers Association (EDPA). Furfaro started at Hamilton in 2010 as an exhibit designer and has been doing amazing work for us ever since.
Meanwhile, Hamilton also won an EDDIE award from the EDPA for our COVID-19 vaccine response. The award was for the most extraordinary industry pivot.
To close out our 2021 awards, we were honored to be included on Event Marketer's Fab 50 List of fabricators serving the event and trade show industry.
We're Excited To See You Again Next Year
All of us at Hamilton want to wish you a safe holiday season and a happy new year. We can't be certain what lies ahead in the world of events in 2022, but we are ready to continue growing and adapting alongside our clients.
Are you already planning your 2022 event calendar? Let us help take your brand experience to the next level. Check out our attendee engagement solutions here.