Hamilton Senior Designer Honored with EDPA Future Leader Award
Hamilton Senior Designer Aric Furfaro captures prestigious EDPA "Future Leader" recognition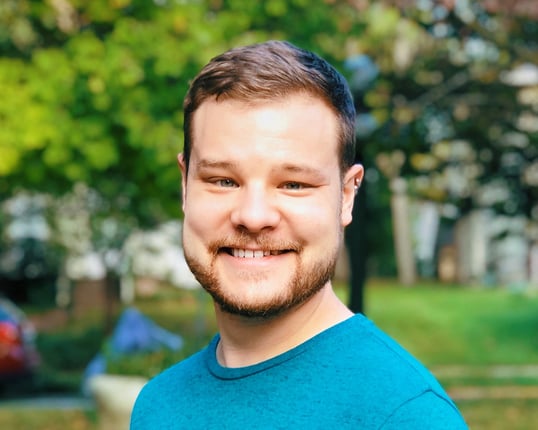 "Team player…leads by example with a seemingly effortless presence…[sets] high standards for himself and helps others attain similar levels of success." Such were the accolades submitted about Senior Designer Aric Furfaro, which helped lead to the Experiential Designers and Producers Association (EDPA) to select and announce that Furfaro had been named a 2021 "Future Leader" at the annual ACCESS Conference on December 1st.
According to the EDPA, the Future Leader Award honors the best and brightest young professionals in the customer experience industry who are already making a difference with their day-to-day contributions and thought leadership. To be considered for this honor, the nominee must currently be a non-C-Suite professional; a leader or manager of people and projects and projects; be demonstrating professional characteristics as determined by the committee; and must be under the age of 40 at the time of nomination.
"We at Hamilton were excited to nominate Aric for this prestigious industry recognition, as Aric is the definition of a team player both internally at Hamilton, and externally with clients and partners," said Josh Frisbie, Creative Director at Hamilton. "He is attentive, calm, and friendly despite the most stressful circumstances our industry can throw at him—he is definitely an up-and-coming leader for this industry."

"We are fortunate to have professionals of the caliber of Aric on our team, and I echo Josh's comments about Aric's potential as a creative and dynamic future leader for our industry," said Jason Weddle, CEO of Hamilton. "He has already moved up the ranks at Hamilton and we look forward to future achievements."
Furfaro started at Hamilton in 2010 as an exhibit designer after graduating from Bemidji State University (BSU) in Minnesota. There he earned a Bachelor of Science in Design, with an emphasis in Exhibit and Graphic Design.
For several years Furfaro previously participated in the EDPA mentorship program, where he has mentored students by providing industry insight and guidance, design feedback, and portfolio development. He participates in the BSU Art & Design Advisory Board by providing industry observations to help shape future curriculum.
Previous Hamilton professionals honored by EDPA include Kyle Miguel, a Senior Project Manager at Hamilton, who was one of 10 professionals honored with the Future Leaders recognition in 2020. Dan Cantor, Chairman of Hamilton, received the Hazel Hays Award from EDPA in 2020, which recognizes an individual for outstanding contribution to the experiential/exhibit industry overall. The award is the highest honor bestowed by EDPA.
---
About EDPA
Founded in 1954, the Experiential Designers and Producers Association (EDPA) is recognized internationally and serves thousands of professional members representing more than 300 corporations across 18 countries. The EDDIE Awards recognize outstanding creative achievements for self-promotion within the experiential/event industry across six categories, including Pivot (repositioning in the marketplace). For more information, please visit https://www.edpa.com/