Looking Back on 2022 and 75 Years of Hamilton
2022 was a monumental year for us at Hamilton. We built some incredible brand experiences, celebrated 75 years of business, and received several prestigious awards along the way.
We thank everyone who supported us this year and invite you to take a walk down memory lane with us as we reflect on our 2022 highlight reel.
A Year of Celebration
Hamilton turned 75 this year! We celebrated this monumental milestone with our team members, partners, and clients all year long.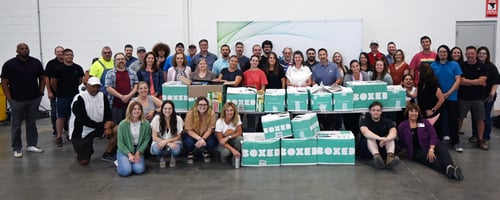 In July, we had an extra special mid-year retreat where we celebrated three-quarters of a century and gave back to our community by donating over a half-ton of food to the Old Bethel & Partners Food Pantry.
We kept the party going in August by unveiling a 75th-anniversary display at our headquarters in Indianapolis.
In September, we sat down with Hamilton's Owner and Chairman, Dan Cantor, to discuss how Hamilton has grown and changed over the years. Look back at our conversation.
In October, we kicked the anniversary into full gear by unveiling our 75 Years of Hamilton landing page and anniversary timeline. The landing page features quotes from our employees and memorable brand exhibits, while the timeline takes you on a virtual journey of Hamilton starting in 1947.
Finally, we put a bow on this anniversary year by celebrating our diamond anniversary at our Hamilton holiday party in December.
Awards and Accolades
Throughout 2022, we were honored to receive a wide range of industry recognitions for our work.
In January, our web-based attendee engagement app, HUB LIVEⓇ, won a Gold AVA Digital Award.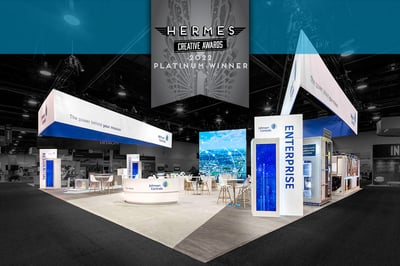 In April, the City of Indianapolis named Hamilton a Certified Good Wages Initiative Indianapolis employer of choice. This distinction recognizes employers who pay a sustainable wage of $18 per hour and offer health benefits to full-time employees.
We also won two industry awards in April. The first was a Platinum Hermes Creative Award for our work on Johnson Controls' AHR 2022 exhibit experience. Then EXHIBITOR magazine named Hamilton a preferred exhibit industry "Top 40" producer.
In July of 2022, we won the Gold StevieⓇ Award in the American Business Awards® in the Web Achievement: Manufacturing Industry category for our Dematic Virtual Tech Tour.
The fall of 2022 began with another exciting recognition. Hamilton made Event Marketers 2022 Fab 50 List. This honor places us among the experiential industry's leading fabricators, exhibit builders, and environmental architects.
In October, Hamilton won the Best of 2022 beMatrixⓇ Award for "Best Trade Show Design Greater Than 600 Feet" for ADT Commercial's GSX exhibit.
EXHIBITORLIVE 2022
It was all fun and games in our exhibit at this year's EXHIBITORLIVE. Our theme was NEXT LEVEL, and we invited attendees to play our digital arcade joystick game for a chance to make the leaderboard and win a Hamilton Yeti. The two-story exhibit made it possible for attendees to literally climb to the "next level" for a great view of the Mandalay Bay show hall in Las Vegas.
Check out photos of the exhibit and learn more about our approach here.
A Year of Building Brand Experiences
We had a sensational year in 2022, attending trade shows, making new connections, and building innovative brand experiences.
In March, we created an exhibit for ADT Commercial that debuted at the largest security trade show in the United States, ISC West 2022. The bright, welcoming lights, enormous hanging sign, and comfortable lounge areas created the exhibit's unique style drawing attendees into the exhibit and encouraging conversation.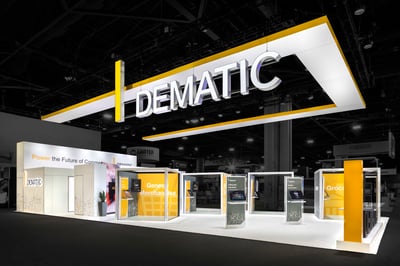 At AAOS 2022, we built an exhibit for Zimmer Biomet, displaying their suite of connected digital and robotic healthcare technologies via live presentations, product demos, digital interactives, and more.
For Dematic's first major in-person U.S. event, MODEX 2022, we provided a 100% digital experience powered by elements of the virtual tech tour, adapting it to serve the in-person experience.
For Caris Life Sciences, we engineered a dynamic, hospitality-focused experience at ASCO 2022, which brought a 50% increase in exhibit attendance over 2019.
Finally, at NTEA 2022, we created an all-new brand experience for Wabash. This brand experience showcased Wabash's new branding and plans for the company's future.
Goodbye 2022, Hello 2023
We had a fantastic 2022 looking back on the past 75 years of Hamilton. But as we reflect on the past, we also look forward to what's next. We're so excited about the future of events and helping our clients build memorable and impactful experiences.
We can help you take your brand experience to the next level in 2023. Contact us today to get started.